Every home has a balcony, which is an incredibly special space. Not just because you can take in the scenery, but also because it lets you get some fresh air and provides a fantastic escape from the cramped confines of an urban environment. The decoration of a balcony can be simple, stylish, modern, classic, rustic, and more. If you have a large balcony, you can decorate it elaborately; if you have a tiny balcony, you can pick a more understated design and keep the decor elements basic. 
It takes a lot of research to choose the ideal balcony décor for your home, but we'll make it simpler for you in this blog. Let's look at some of the best decorating ideas to enhance the overall appeal of your home, including shelves, plants, seating, lights, and lovely hangings.
Bring the vibe of a living room to your balcony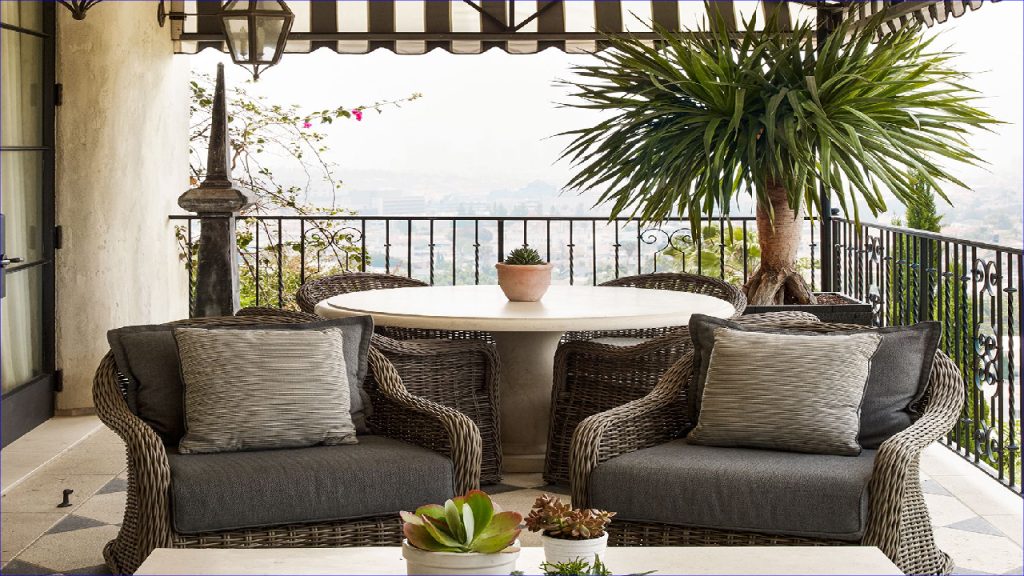 You can choose balcony decor that reflects the style and atmosphere you would like for your living space. If you spend a lot of time on your balcony, you can furnish it with furniture like a cozy armchair, a small coffee table, a vibrant rug, cushions, some candles, and even a blanket to make it feel more like a living room.
Make your balcony alive with greenery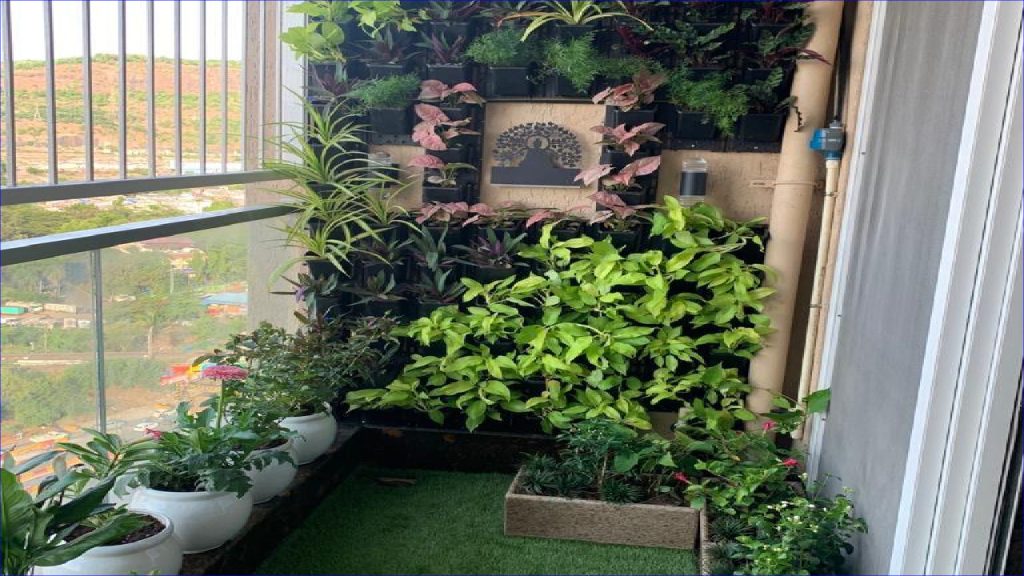 A balcony should make you feel more connected to nature, and the best way to achieve this is by adorning the area with lots of plants. Your balcony will look alive if you have planters on the railing filled with colorful flowers. To add a unique dimension to the balcony wall, you can even decide to construct vertical gardens and plant frames.
Bohemian balcony decoration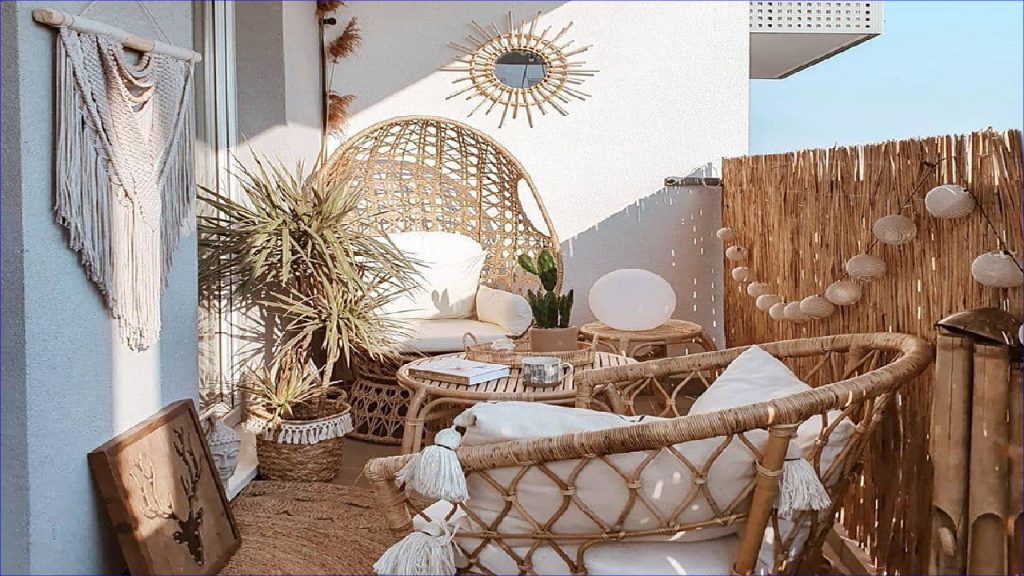 The key to boho design is combining various colors and patterns. You can choose from floral or tribal patterns, play with vibrant colors to make this room stand out, or keep it serene by sticking with neutral hues like ivory or beige. Maintain a casual look with the carpets, cushions, and sofa materials. Add a wicker side table and weather-resistant furniture. Use string lights to create a romantic mood. The fact that this decor is both affordable and distinctive is its best feature.
Make a reading nook on the balcony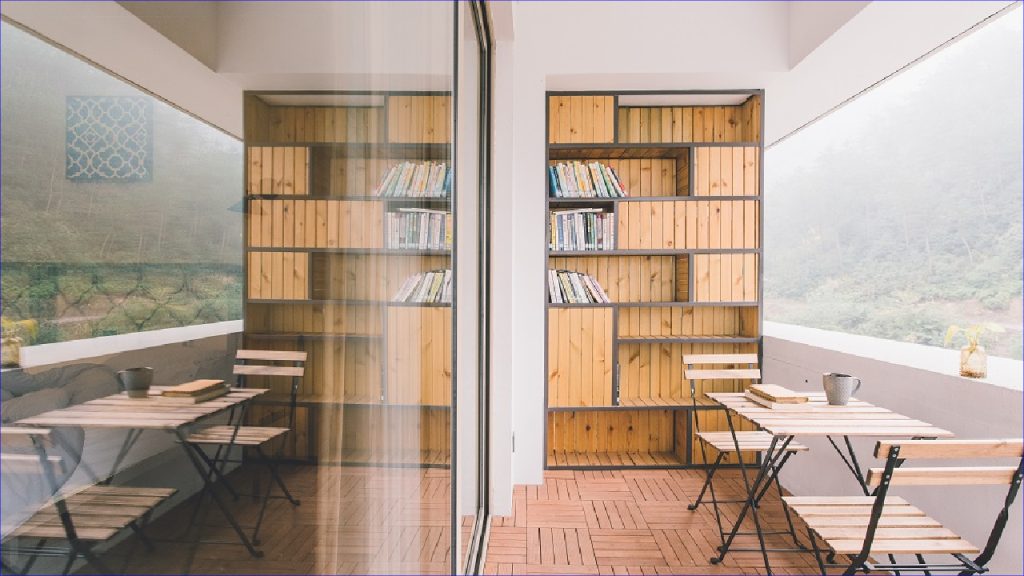 Your balcony can quickly be converted into a reading area. Put a wooden shelf to your balcony; it will fit there well and give you more storage space. Create floating shelves for your balcony walls or purchase a standing shelf to hold decorative objects, succulent pots, gardening tools, and books. Enjoy reading your favorite book while sipping coffee or tea on your balcony. This area can serve as your workspace as well!
Install false ceiling on the balcony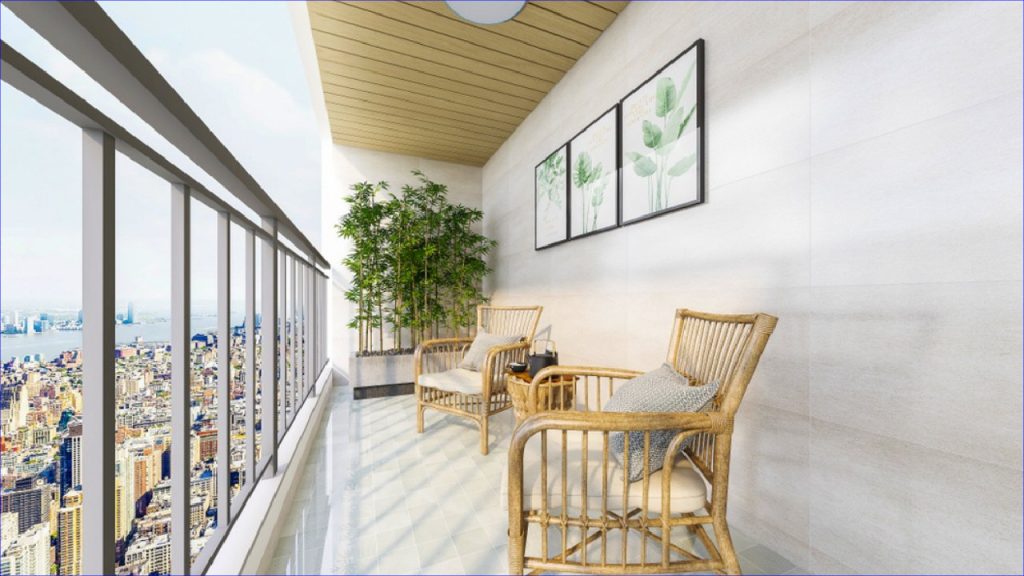 We tend to overlook the balcony despite paying close attention to the ceilings in our home. You can think about adding a false ceiling as part of the balcony design. False ceilings on your balcony can be adorned with fans, spotlights, and wooden designs for a polished and modern appearance. Your balcony ceiling ideas will undoubtedly draw a lot of attention.
Try adding mirrors and frames to the balcony walls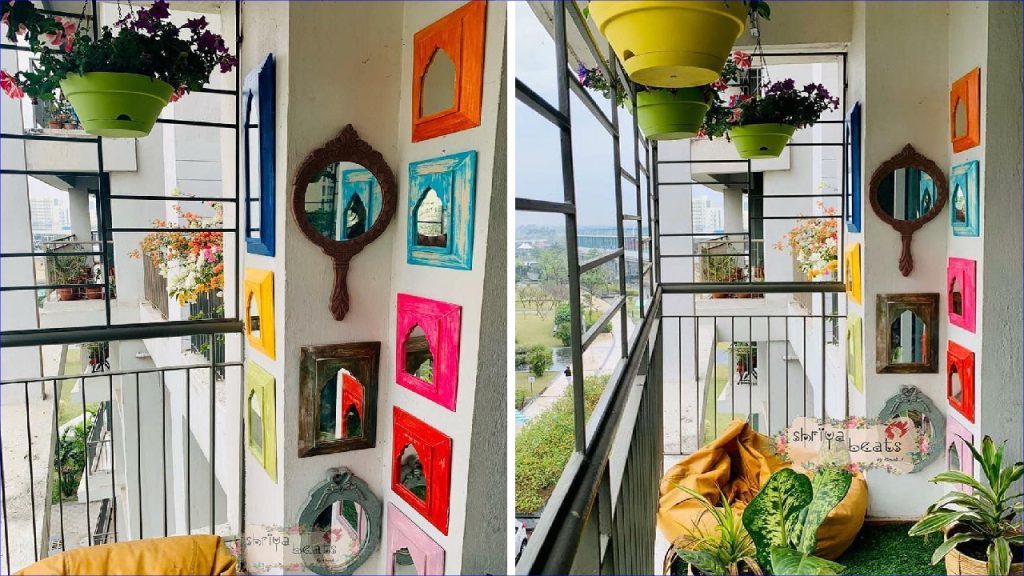 Instead of traditional wall art for your balcony, consider securing a mosaic of mirrors. It has a remarkable appearance and will emphasize the pleasant vista even more. Also, you may choose some lovely frames and arrange them so that they tell a lovely tale and enhance the visual appeal of the balcony wall.
Create a mini bar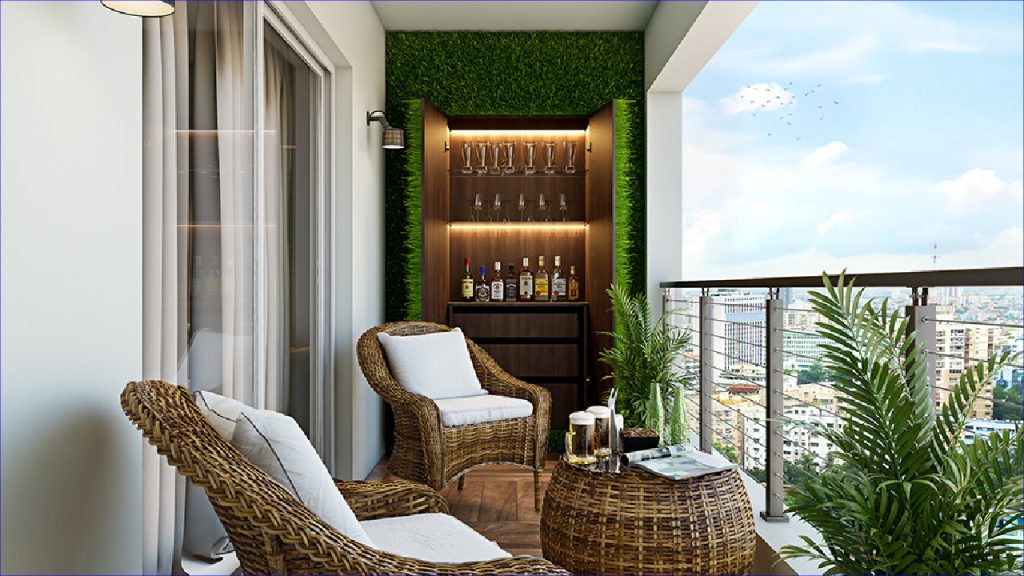 Including a minibar on your balcony for enjoyable get-togethers and friend nights. Choose up zany bar cabinets and decor that fit the whole theme. To establish a lively and laid-back vibe, choose a small bar cart, a tiny fridge, and bar chairs.
Install swing benches on your balcony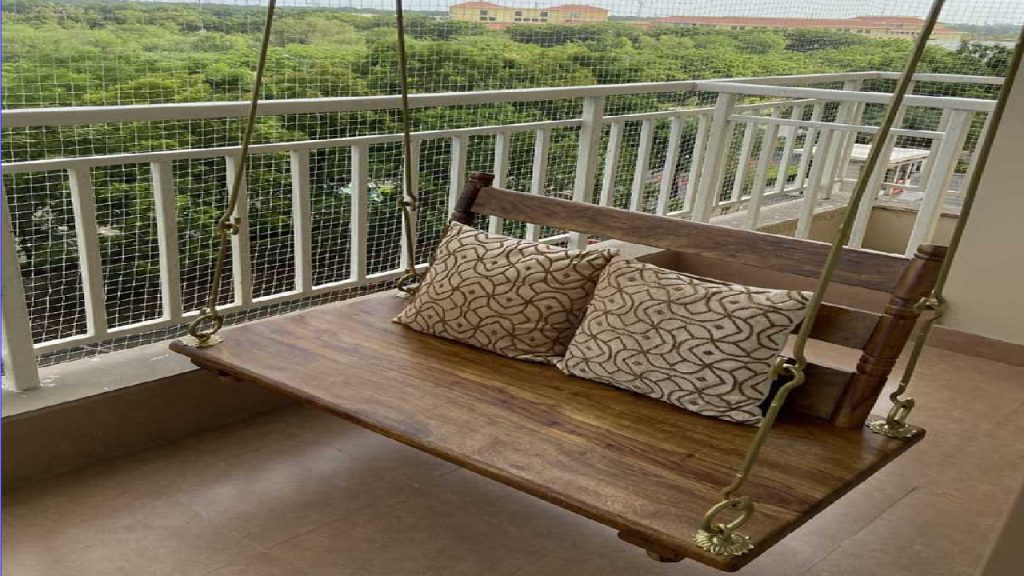 Make an investment in metal and wood swing benches to bring some liveliness to your outdoor area. For a welcoming atmosphere, you can select from a range of sizes, such as a single-seater or a huge bench.
Walk-In Woods decoration ideas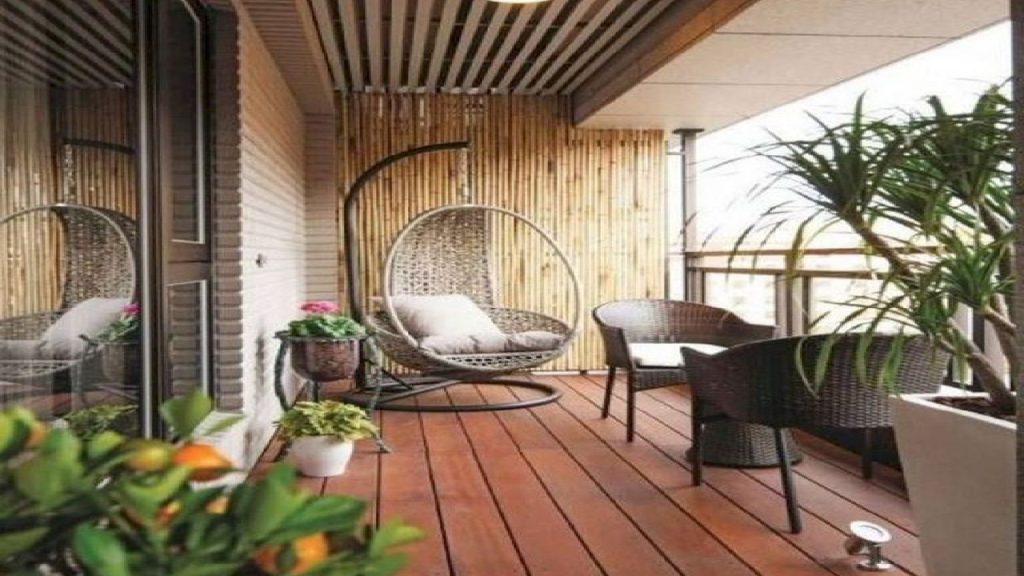 Making the room feel natural is a great way to make your balcony feel like a part of its surroundings. To add earthy, warm tones, use flooring made of wood. Set the scene off with some beautiful greenery. Regardless of its size, this gives the balcony the appearance of a garden. A planter box with a hedge as a boundary creates an interesting transition for the edge of the balcony.
Light up your balcony with fairy lights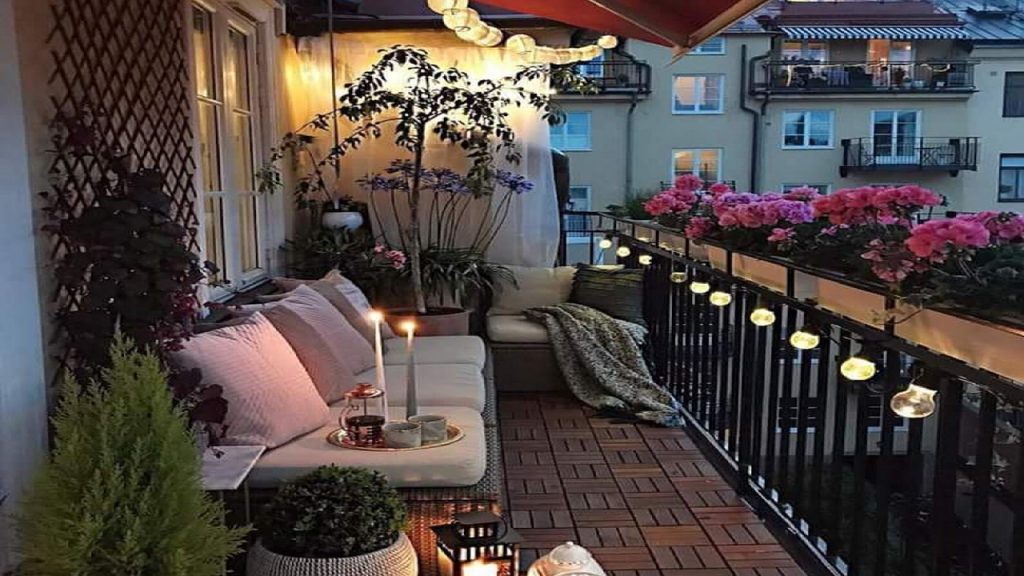 By decorating the ceiling with creative balcony lighting ideas, you may set up the balcony for the ideal date-night atmosphere. Your space can be enhanced with a string of lights, creating a cozy hideaway. To create a cozy and moody atmosphere, you can hang them from the ceiling, place them along the railing, or pair them with a canopy.
Staple candles, string lights in a jar, and decorative lighting add even more pizzazz to the area and are ideal for your balcony makeover.
Bottom line 
Today, balconies are a luxury to have as a feature of your home; use them wisely to their fullest potential. You only need to determine your utility needs and design preferences to create the ideal balcony space. To get motivated and rethink rejuvenation at home, use the suggestions above.
Follow and Connect with us: Twitter, Facebook, Linkedin, Instagram