What is a Certificate of Deposit?
A dematerialized Certificate of Deposit (CD) is a fixed-income financial instrument issued by the Reserve Bank of India (RBI) and subject to RBI regulation. The payout amount is guaranteed from the beginning. Any All-India Financial Institution or Scheduled Commercial Bank may issue a CD. They are issued at a discount off the face value. Similar to a fixed deposit (FD), a certificate of deposit (CD) serves to officially state that you have deposited money in a bank for a specific amount of time, and that bank will pay you interest on that deposit based on the sum and time period of your deposit.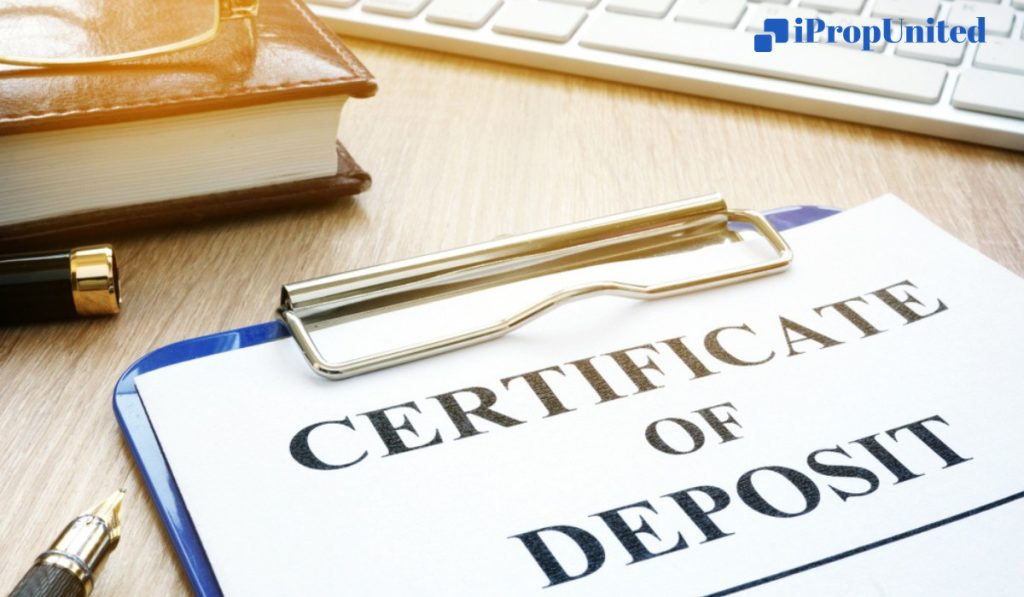 Difference between CD and FD
A fixed deposit and a certificate of deposit are very similar to one another. Both of them are identical. Some banks even refer to fixed deposits as CDs or time deposits. They have the same term length, a minimal deposit requirement, and higher interest rates than standard savings accounts. CDs are freely negotiable, whereas FDs are not.
Features of Certificate of Deposit 
These are some key characteristics of CDs and how they compare to other financial instruments. 
In India, CDs can be produced for a minimum deposit of 1 Lakh and in multiples of that amount. 

A CD can be issued by All-India Financial Institutions and Scheduled Commercial Banks (SCBs). A CD cannot be issued by RRBs or cooperative banks. 

The term time of CDs issued by SCBs ranges from there month to a year. 

The terms of financial institution-issued CDs range from one to three years. 

Dematerialized CDs can be transferred through delivery or endorsement, just like dematerialized securities. 

For a CD, there is no lock-in necessary. 

A CD cannot be used as collateral for a loan. 

The Internal Revenue Code completely taxes certificates of deposit. 
Difference between Commercial Paper and CD 
Commercial paper and a CD have two glaring contrasts from each other. The first is who has the authority to issue them. Banks and financial institutions both issue CDs. Primary dealers, major enterprises, and All-India Financial Institutions all issue commercial papers. The minimum deposit amount is the second difference. A certificate of deposit allows multiple investments up to the minimum requirement of one lakh rupees. On the other hand, commercial paper is only issued for investments totaling at least 5 lakhs, and then in multiples of 5 lakhs. 
When do Indian banks issue a CD? 
Any scheduled commercial bank may have high-risk obligations related to CDs. In some circumstances, some banks are more inclined to offer a CD than others. There are only two circumstances:
When there is a high demand for credit and limited growth in deposits. 

When the market is experiencing difficult or tight liquidity conditions, which indicates that cash is invested in non-liquid assets. 
NRIs who have invested in a CD are prohibited from returning home once the money has matured. 
Benefits of Indian CD Publishing There are advantages to releasing a CD, which is why investors prefer it so much. As follows: 
Security: Due to market volatility, a certificate of deposit, or FD won't consume all of your capital. Similar to regular insurance, it is a perfectly secure financial instrument with an assured amount at maturity. There is no risk of losing any money you deposit into your CD, which will continue to expand reliably. A short to mid-term investment in it is quite safe. 
High Interest Rate: The majority of investors are drawn to CDs because of this feature. They provide higher interest rates of up to 7.8% on the lump sum deposited than standard savings accounts, which have interest rates that hover around 4% on average
Flexibility:  When your CD matures, you can choose to withdraw it in one lump sum, monthly payments, or annual payments. Although it must adhere to a number of requirements established by the bank, you can choose the length and price of the investment. You may take the most of the CD if you adapt it to your needs
Final Thoughts 
In the short to medium term, issuing a certificate of deposit is a safe investment strategy. Hopefully, this CD guide has helped you understand the features, advantages, and eligibility of fixed-income instruments like CDs and why you should invest in them to secure your financial future.
However, you must first open a Demat account to proceed with your CD. Dematerialized accounts are abbreviated as "demat accounts." To hold dematerialized securities like a CD, an online Demat account is necessary. With just a few easy steps, you can open a Demat account and get started buying your first CD.
Disclaimer: Access to the content on this internet page is provided by iPropUnited as a courtesy to the public service for educational reasons based on related news and stories. The accuracy of any information on this website cannot be guaranteed, however, it is all believed to be credible.
Follow and Connect with us: Twitter, Facebook, Linkedin, Instagram