A guided decision with well-defined aims and objectives should be made when purchasing a real estate asset, especially one that is registered in your name. While investing your entire life's resources in the real estate market, one cannot simply allow any room for uncertainty. Although the terms "investing" and "end-use" are commonly used in relation to purchasing real estate, many people are unable to distinguish the subtle differences between the two. For instance, while the location is crucial when purchasing a property for personal use, it may be possible to make some accommodations while making an investment. Let's take a closer look at these crucial variables.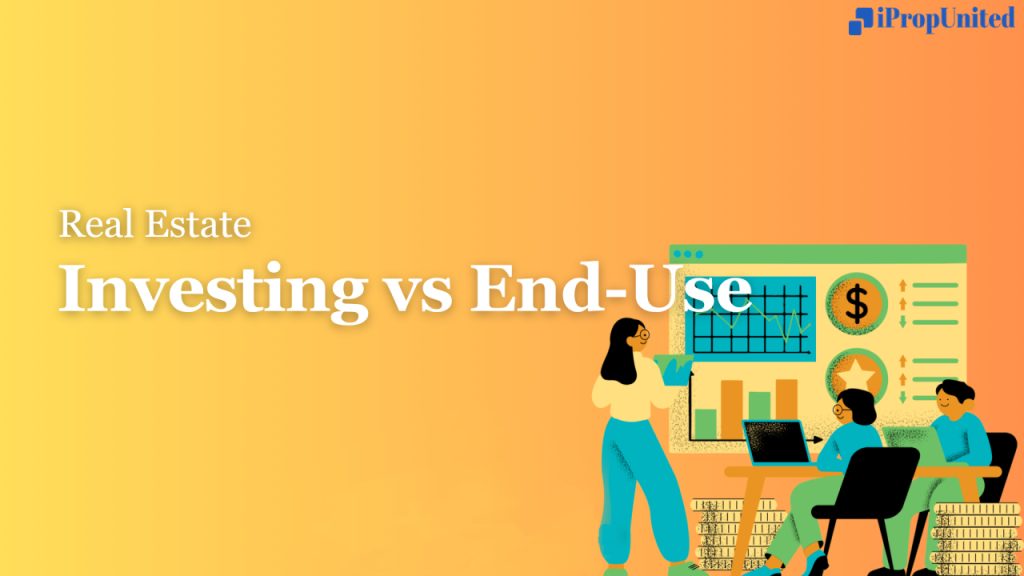 Location
End-users: For people who intend to purchase a home with the intention of moving in at some point in the future, location is crucial. Be sure the area can accommodate all of your demands and is readily located. It should be connected to other areas of the city and have access to amenities like shops, schools, and hospitals. One must also take the neighborhood into account and decide whether or not it fits their lifestyle. Even if you choose a suburb where you don't intend to move right away, consider aspects like the political stability of the area, infrastructure plans put forth by the local government and the federal/state governments nearby, and ongoing large-scale residential construction projects. This will enable you to evaluate the area's livability index.
Investors: For people purchasing a house solely for investment purposes, a comprehensive analysis of the area is crucial. Real estate experts advise investing in newly developing areas like those in the suburbs or on the outskirts of the city to increase your chances of making a profitable return on investment (ROI). Although these developing areas might not yet have all the necessary social and physical amenities, they do offer reduced entry costs and thus better potential for price appreciation. Yet, you must be certain of how long you plan to remain in the market. For instance, it makes sense to invest in a community that is still in the early stages of development if you have about 10 years to spare. Choose a place where there has been some growth and price appreciation but has not yet hit its pinnacle if your time horizon is between three and five years.
On the other hand, if you want to profit from your investment through rental returns, you must take into account elements like the area's livability and closeness to a major economic center.
Construction status
End-users: Status of the project End-users: If you intend to take out a home loan, the stage of construction of the property you are hoping to purchase will affect your monthly outlay in the form of EMIs. For instance, it can make more sense to buy a property that is nearly ready for possession if you are currently renting. If not, managing EMIs and rent will be a double load for you. But, as an end-user, you must consider the advantages and disadvantages because purchasing closer to possession includes a higher value than at launch.
Investors: It makes financial sense to invest at the pre-launch or launch stage if you're looking for quick returns. When there is no guarantee of timely delivery, you pay less but run a bigger risk. When development on the property is halfway complete, you can leave and use the money you saved to buy another piece of real estate. Yet, if you leave at the moment of possession, you will benefit the most, provided you are prepared to wait that long. You can think about investing when the property is just partially finished if you don't want to wait too long to take possession. The initial investment would be higher in this situation, but you might be able to rent the property out within a year or so and make rental income.
Infrastructure 
End-users:  When purchasing a property for end-use, confirm that the neighborhood has developed infrastructure. Easy and content living is ensured by a decent road system, the presence of renowned schools, hospitals, and recreational areas nearby, as well as the accessibility of key connectivity points like the airport, metro, railway station, and bus stops.
Investors: Occasionally, the social and physical infrastructure in many suburban regions and outlying places may not be the finest. One must check to see if the neighborhood is part of the master plan for the larger metropolis. A potential investor should also check to see if the state or central government has announced any initiatives that might increase the site attractiveness index of the area, spurring investment and rental growth.
Property type
End-users: Only you are in a position to determine which sort of property—a plot, house, villa, or apartment—would best meet the needs of your family. Thus, base your purchasing choices on your family's necessities.
Investors: If you want to see a good return on your money, make sure to purchase a property type and configuration that is in high demand. You might need to speak with as many property advisors as you can in order to do this, in addition to conducting in-depth web research. The demand can be determined by following real estate forums and communities. It's interesting to note that each city has a popular layout and property type. Individual homes are more in demand in smaller cities than 2BHK and 3BHK society apartments are in metro areas.
Follow and Connect with us: Twitter, Facebook, Linkedin, Instagram