Project finance is a method of funding in which lenders provide loans to finance a specific project, and the project's cash flow, assets, and rights are held as collateral.
It is a vehicle to raise funds through loans for mega projects in power, telecommunication, roads, railways, theme parks, airbus, oil and gas, and other infrastructure sectors.
To use the concept of project finance, a special purpose vehicle ( SPV ) is created by the sponsors of the project by using equity and debt.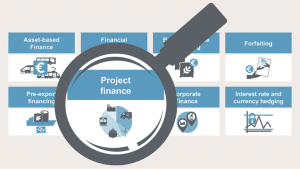 Special purpose vehicle ( SPV )
Special purpose vehicle is a separate legal entity for temporary and specific objectives, whenever a company undertakes new risky projects, it forms a Special purpose vehicle to safeguard its own assets and finances.
It is also known as a bankruptcy remote entity because of its legal position as a separate company having its own assets and liabilities, an SPV meets its obligations even when the parent company goes bankrupt.
Example – In the case of the Noida toll bridge, Noida Toll Bridge Company Limited was created.
Sponsors
Sponsors are individuals, corporations, or consortiums that initiate, organize, and manage the development of a project. They are responsible for providing the necessary funding, expertise, and resources required to bring the project to fruition.
Type of sponsors
Industrial Sponsors : – They look at the initiative of the project which is related or linked to the core of the business in some ways or as the integrated upstream and downstream.
Contractors : – These are the ones that run, build, or even develop plants. By providing subordinate debt or equities, they are interested in participating in the initiatives of Project Finance.
Financial Sponsors : – With the objective of capital investing in deals of high profits, they play a specific part in the initiative of Project Finance.
Public Sponsors : – they have the objective to work for the social welfare of people like municipalities, public companies, municipalized companies, central,  local and state government.
Why do Sponsors Use Project Finance?
A sponsor can use two alternatives to choose to finance a new project.
( Corporate Financing ) The new initiative is financed on the balance sheet.
The new project is incorporated into a created economic entity, the SPV, and financed off-balance sheet (project financing).
– Corporate Finance – means that the sponsors use all the assets and cash flows from the existing firm to guarantee additional credit provided by lenders. If the project is not successful, then all the remaining assets and cash flows can serve as a source of repayment for all the creditors of the combined entity.
– Project Finance – means instead that the new project and the existing firm live two separate lives. If the project is not successful, project creditors have very limited claims on the sponsoring firm's assets and cash flows.
Advantages of project finance
Off-Balance Sheet – Keeps projects off sponsors' balance sheets
Risk Sharing – Spread risks among stakeholders.
Expertise and Resources – Access to specialized skills and assets.
Flexible Repayment – Structured according to project cash flow.
Limited Liability – Limited liability for sponsors.
Optimized Capital – Mix of equity and debt for better returns.
Project Specific – Tailored financing for unique project needs.
Enhance Credit worth – Improves project and sponsor credit.
Encourage Private Investment – Boosts private sector involvement in public projects.
Long Term Financing – Aligns repayment with project lifespan.
Significant Deals in Last 12 Months
Project financings have commenced and concluded in your jurisdiction over the last 12 months are –
The Asian Development Bank has approved:
$300 million loan for the installation of water supply and integrated stormwater and sewage management infrastructure in Rajasthan's secondary cities; and $270 million loan in Madhya Pradesh.
The International Finance Corporation has promised India a sum total of $2 trillion for the development of green buildings; the expansion of renewable energy sources; and the improvement of public transportation facilities.
The World Bank and Himachal Pradesh government have agreed to a $2 million loan for the Himachal Pradesh State Roads Transformation Project.
In conclusion,
project finance is a sophisticated financial strategy employed for large-scale ventures, emphasizing risk management, precise structuring, and collaboration among various stakeholders. By creating Special Purpose Vehicles (SPVs) and employing limited or non-recourse financing, it shields investors from excessive risks. Careful risk allocation, rigorous due diligence, and meticulous documentation are essential components, ensuring that projects can attract funding and proceed smoothly.
Government support, both in terms of permits and political risk insurance, plays a crucial role in mitigating uncertainties. The cash flow waterfall mechanism and well-defined exit strategies provide investors with confidence in their investments. Overall, project finance stands as a testament to financial innovation, enabling ambitious projects to become reality while minimizing the financial exposure of individual entities.